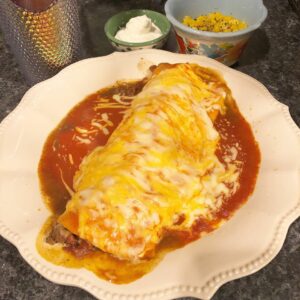 YUM! One of my favorite meals, not so pretty on my plate! My mom and I have been making this for years! I didn't realize how low point it can be until I used the @ww recipe builder! #6SP for this whole plate of deliciousness!
Ingredients
8 Tortillas (we used Mission Low Carb tortillas 2SP each because that's what she had - you can use the 1 point tortillas and it would be lower points!)
1.5 lb 96% Fat Free Beef
10oz can Ro-Tel
1 pkg McCormick Mushroom Gravy Mix (+1 cup water)
1 can Old El Paso Enchilada Sauce
1 small can of chopped green chilies
1 small onion
12oz Trader Joe's Light Mozzarella
Directions to make a whole batch:
1. Add Meat and Onion to Skillet - cook till Browned.
2. Add Ro-Tel, Mushroom Gravy, 1 cup water, green chilies - let simmer for about 7 minutes.
3. Place each tortilla in 9x12 casserole dish and Roll meat mixture and 1/4 cup cheese into each tortilla, any meat mixture left, pour over the top.
4. Pour Can of Enchilada sauce over the top of enchiladas and add the remaining cheese to the top.
5. Bake for 20 minuets at 350°
*Makes 8 servings at 6SP Each - can be less if you use different tortillas and Fat Free Cheese!
*Serve with 0% Fat Free Fage Greek Yogurt for zero points
*I usually make mine 1 serving at a time, because the tortilla gets to soggy when reheating the leftovers.