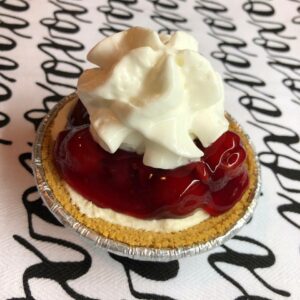 Who else starts craving desserts when it gets close to shark week? I came up with this simple yummy dessert, for 5 Smarties!
Ingredients:
1 Mini Keebler Graham cracker pie crust (4)
3 Tbsp Fat Free Cool Whip (1)
1 tsp Sugar Free Cheesecake Pudding (0)
1oz Great Value No Sugar Added Cherry Pie Filling (0)
2 Tbsp Fat Free Reddi Wip (0)
Directions:
1. Bake Crust in over at 375° for 5 minuets
2. Mixed 3 tablespoons of Fat Free Cool Whip with 1 tsp Pudding.
3. Let crust cool, then put cool whip mixture in crust, place in freezer for about 30 minutes.
4. Top with 1oz of pie filling and Reddi Wip, Enjoy!
**All ingredients found at Walmart - see picture of items below**
**Can sub Fat Free Yogurt for the 3 Tbsp of Cool Whip, I prefer the Cool Whip tho **