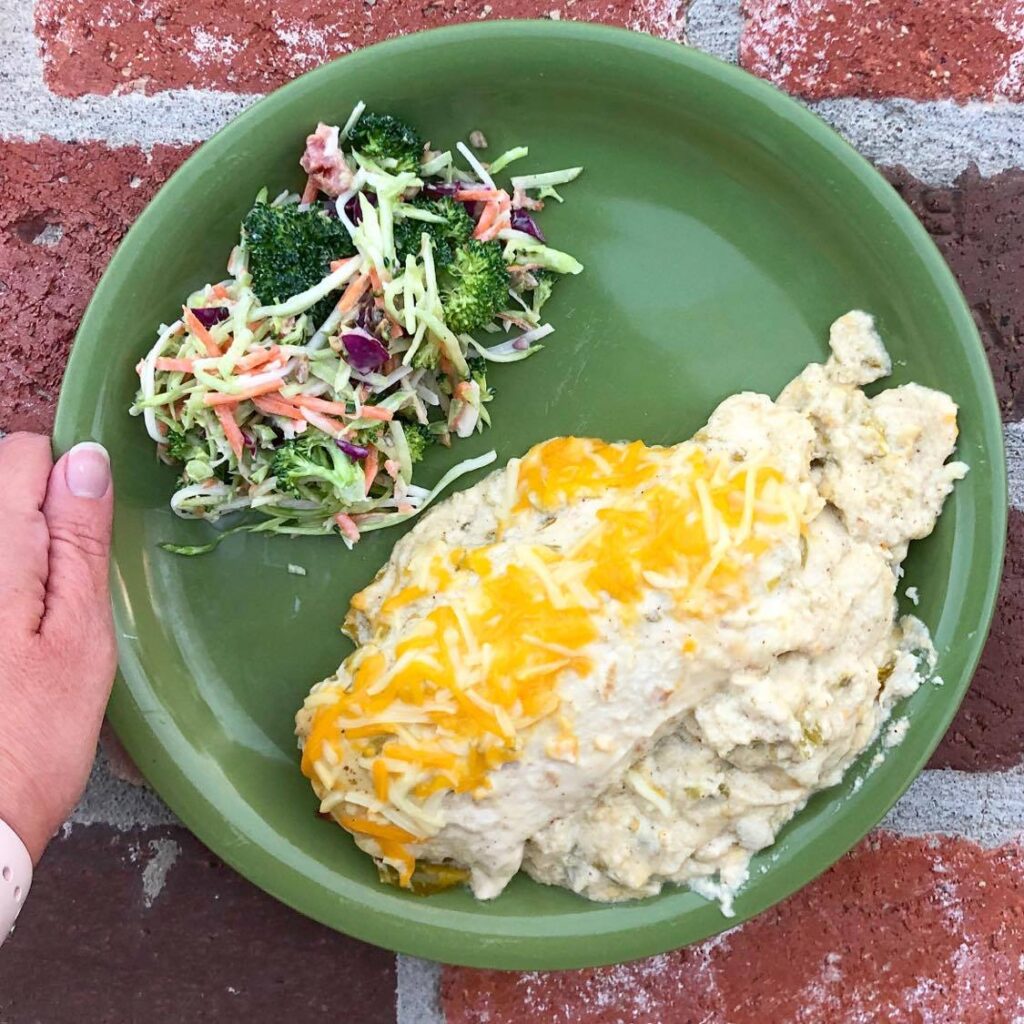 INGREDIENTS
* 2 Tbsp I can't believe it's not butter (3SP)
* 2 Tbsp flour (1SP)
* 1 cup chicken stock, heated (0SP)
* 1/8 teaspoon cayenne powder
* 4 ounces Fage Greek Yogurt (0SP)
* 1/8 teaspoon salt
* 4 ounce can chopped green chilies, I prefer the "Hot," drained (0SP)
* 1/2 White onion, diced.
* 2 Mission Soft Carb Balance Tortillas (4SP) of your choice of tortilla.
* 2 Chicken Breasts, I used the white meat from a Rotisserie chicken, you could also use a can of Chicken, heated (0SP)
* 1 cup Best Choice Shredded FF Mozzarella cheese (1SP)
* 3/4 cup FF Cheddar (1SP)
INSTRUCTIONS
1. Preheat oven to 350 degrees.
2. In a medium sauce pan spray olive oil spray and add diced onion, sauté.
3. Place sautéed onion in bowl to the side. Place same sauce pan over medium heat, melt butter and add flour. Cook approximately for 3-5 minutes.
4. Heat chicken stock in microwave for 1 minute. Then add chicken stock a 1/3 at a time to the sauce pan, stirring with a wire whisk.
5. Add Cayenne, Greek Yogurt, salt, chilies and Sautéed onion and stir. Warm for 3 minutes.
6. In an 8×8-inch casserole dish or glass baking dish, add a 1/2 cup of the white sauce to the bottom.
7. Lay tortillas flat on your counter and divide the chicken between both tortillas, also add 1/2 cup of mozzarella to each tortilla. (You Can use less cheese to cut down on points, but I just love cheese!:)
8. Roll both tortillas and place seam side down, in the sauce side by side.
9. Cover with all the remaining sauce and add the remaining cheese on top.
10. Bake for 30 minutes.
Makes 2 servings
1 Enchilada = 5SP
2 Enchiladas = 10SP