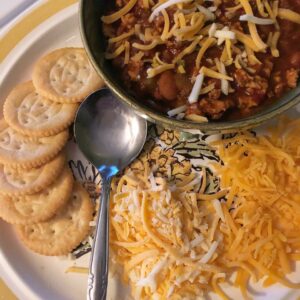 I love Chili, it's perfect for cold winter nights! Plus, who doesn't love a one pot meal, with minimal clean up?!
Ingredients:
1 LB 99% Fat Free Ground Turkey
1/2 Red Onion Chopped
1 Green Bell pepper
1 Tbsp diced Jalapeños
4 oz can Green Chilies
1 14.5 oz can Del Monte Tomatoes, Diced Zesty Chili Style
1 16 oz can Bushs Best Chili Beans in Mild Sauce
2 Tbsp Williams Original Chili Seasoning
DIrections:
1. Place Ground Turkey and Chopped Red Onion in skillet and cook meat until done.
2. Place Chopped Green Pepper, Diced Jalapeños, Green Chilies, Del Monte Tomatoes, Chili Beans and Chili Seasoning in skillet.
3. Let simmer for 20-25 minutes
*Makes 5 servings at 3 WW Freestyle Smart Points Each
**To make this chili lower points, use Pinto Beans instead of Bushs Chili Beans!
What do you top your Chili with?
Fage Greek Yogurt
Fat Free Cheese
Diced Onion
Crackers (Reduced fat Ritz is my favorite)