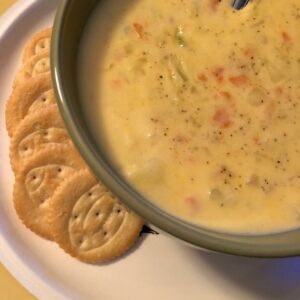 Cheese? YES, Please!
My favorite soup is Cheesy Potato Soup!
Ingredients:
1 medium Potato
1 cup cut baby carrots (or more)
1 cup celery
1/2 cup white onion
3oz 2% Reduced Fat Block Velveeta
Directions:
1. Peel Potato, cut into chunks. Chop up carrots, celery and onion.
2. Place all ingredients into pan and cook until potatoes and carrots are softened.
3. Depending on how soupy you like it you can remove some water.
4. Cut up the Velveeta and let it melt, stir. Turn heat to lo, because it has a tendency to scorch!
5. Salt and pepper to taste.
6. Eat up!
••This serves 2 at #6SP or 1 for #11SP •• Could use a smaller Potato and more carrots and celery to make it less points... Or Less cheese! 😉